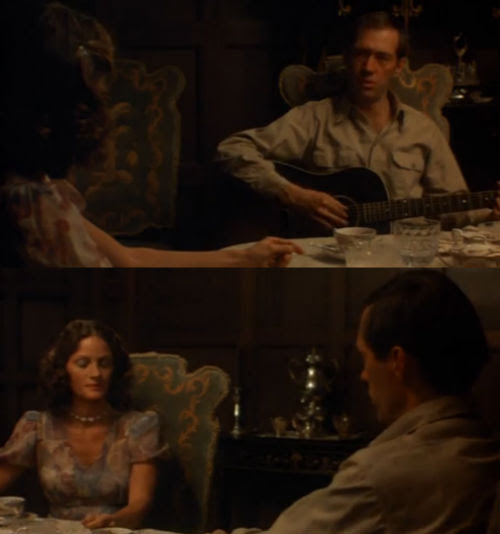 Bound for Glory (Hal Ashby, 1976)
Pauline: I am very sorry that there are so many people who have nothing.
Woody Guthrie: Sure. Course you are. Sorry don't get the hay in. So you ladle 'em up the soup and dish out a little charity?
Pauline: Well, we're not all as gifted as you are. Some of us just do the best we can.
Woody Guthrie: Pauline, let me tell you somethin'. When I. . .well, when I was on the road, I met a lot of different kinds of people. There was bums and freeloaders. There was families that was torn apart. And poor people that just was achin' for some kind of work. And men that are just tryin' to get somewhere. Anywhere. They all got somethin' in common, that every one of them had somethin' to give me. Then you meet some man that's got some money, and he'll be… tied up and anxious. The human thing is just gone. It's just gone, cos he's afraid. Afraid that he's gonna lose somethin'. He's afraid to smile, cos somebody's gonna swipe his teeth out his mouth.
You yourself are in flow. You are the river.

And it is only in the water that you yourself can learn how to swim. The wise among men seek to fathom the foundations of existence, but all they can do is to describe one wave of the current. In their portrayal, the flowing has congealed and can again become true only if they repeatedly release the picture they have painted back into change. The greedy among them have launched many projects: they have thrown rocks into the water in order ot dam up the stream; in their system, they contrived to invent an Isle of Eternity, and then they puffed up their hearts like balloons, all of it so as to catch eternity in the trap of one blissful Now. But they caught only air and they burst, or, turned as if by witchery into an Imaginary Idea, they wholly forgot to live, and the stream calmly washed over their corpses. No: the law is in the river and only by running you seize it. Perfection lies in fullness of journey. For this reason, never think you have arrived. Forget what lies behind you; reach out for what lies before you. Through the very change in which you lose what you have snatched up you will at last be transformed into what you crave for with such longing.
Hans Ur Von Balthasar, Heart of the World